Born in Japan in 1966
The VFD (VFD fluorescent display tube) was the world's first technology developed by Ise Electronics Industry of Japan in 1966.
Like Nixie tubes, VFDs were adopted as displays during the era of calculator wars and became popular throughout the world.
Although most of them have been replaced by liquid crystal displays (LCDs), VFDs are still used in some train car information displays and home appliance displays, and are surprisingly familiar to many people.
VFDs are still used in unexpectedly familiar ways, such as in some train car information displays and in displays for home appliances.
Phosphors emit light in a vacuum
When a filament (cathode) is heated to around 600°C in a glass tube under vacuum conditions, electrons are emitted.
The electrons are attracted to the positive potential of the anode and anode on the anode. fluorescent material on the anode. The electrons are attracted to the positive potential of the anode and emit light when they collide with the phosphors on the anode.
Based on this principle, numbers and letters are displayed by switching the anode plus or minus.
Features of VFDs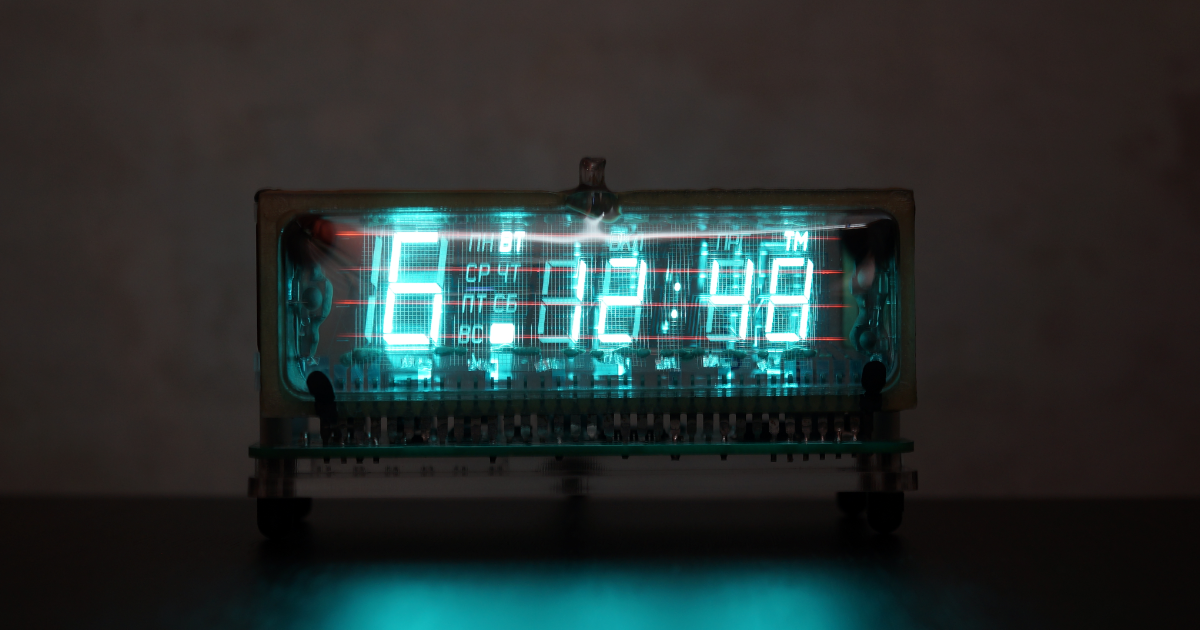 (1) Wide viewing angle, easy to see from any angle
2. fast response speed of display
3. less susceptible to freezing temperatures and high temperatures.
In addition, the VFD's
Light
is not affected by
LED
etc.
Compared to LEDs, VFDs
The soft and luxurious appearance of VFDs is a major attraction of VFDs.
The mechanism that can be seen inside the vacuum tube and the futuristic appearance of the blue-white light are the main attractions of VFDs.
Here are some clocks that use VFDs
The VFD digital watches we deal in are mainly equipped with dead stock VFD tubes made in the former Soviet Union.
The watches manufactured in the heyday of VFDs are unique in shape and are truly cyberpunk.
VFDs manufactured in this period are as rare as Nixie tubes, so if you are interested, please feel free to pick one up.
Thank you very much for reading to the end.
We hope you will find VFDs different from Nixie tubes in their appeal.
We hope to see you again with your fun watches.
Thank you for your continued support of 830 Watch Store.
830 Watch Store